Opening hours
Starting February 25 2023, we are open on weekends and during the school holidays. The Dino Experience Park is open from 10:00 AM to 5:00 PM.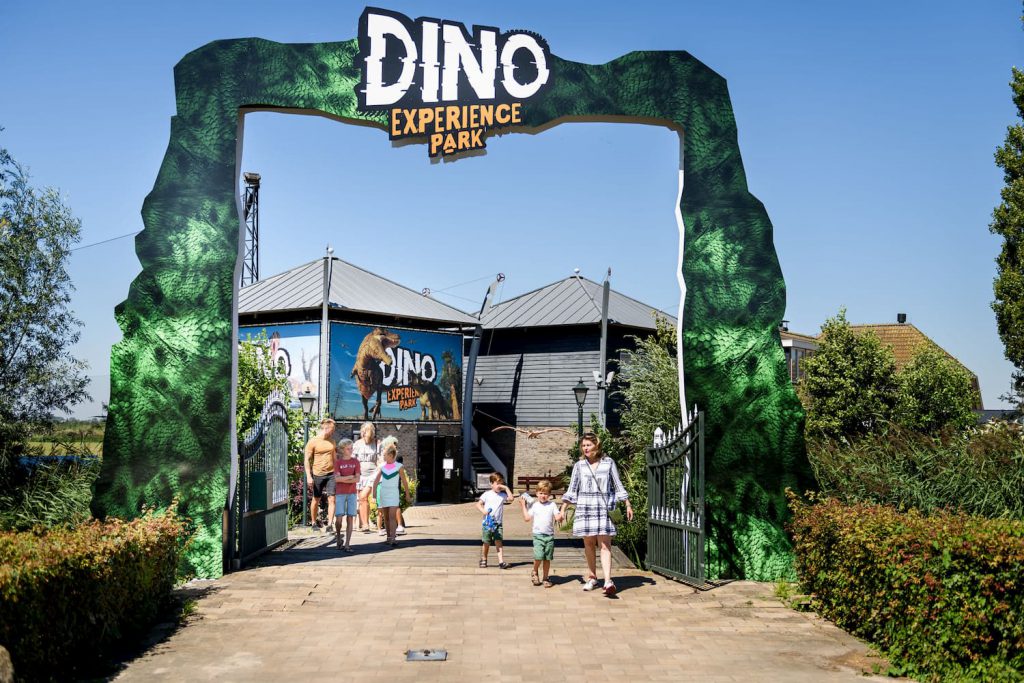 Ticket information
Dino Experience Park
Children up to 3 years: free (don't need a ticket)
Children as of 4 years and adults: €17.50 p.p. (online tickets)/ €19.50 p.p. (tickets at the counter)
Ticket includes:

Jurassic Golf
Dino Trail scavenger hunt along more than 70 dinosaurs
Dino Splash
Jurassic Gym
Playground with climbing tower, cable car, family swing, climbing dino and much more…
Jump Zone
Dino Cinema
Dino Dig
Danger Zone
Jurassic Mining
Dino Rides
Dino Jeep Safari
Excluded: pedal boat and canoe rental
Choose a time slot from which you can enter the park. It is a 'from' time, so you do not have to be there exactly at that time, you can also come later to avoid crowds at the entrance. The end time for all time slots is 17:00.
Buy your tickets now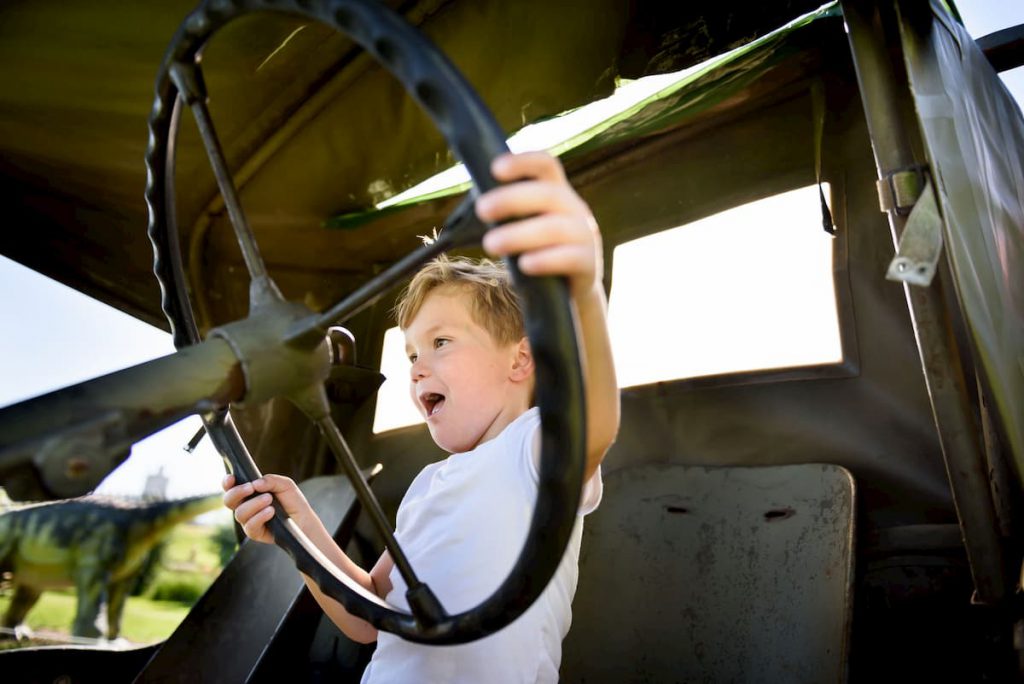 Parking
The Dino Experience Park has sufficient parking spaces. The parking fee for motorised vehicles is €6.50 per day. You can pay (contactless) at the barrier upon arrival. Coaches park for free. We currently have one charging station for electric cars, scooters and bicycles.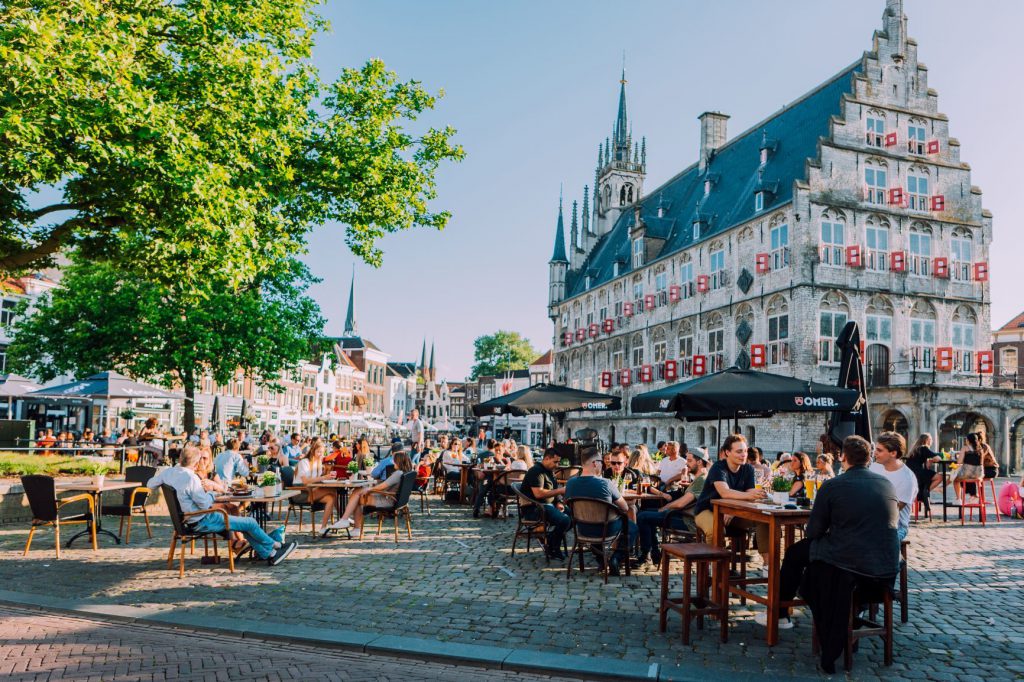 Visit Gouda
A visit to Dino Experience Park can be combined with a visit to Gouda. The city is known for its beautiful and compact historical city centre and, of course, its cheese and syrup waffles.
Read more
Frequently asked questions
Do you have a question about planning your visit to the Dino Experience Park in Gouda? We have answered some of the questions we often get asked below. Is your answer not listed? Then please take a look at our general frequently asked questions page, or contact us!
Is my ticket mobile-scannable?
Yes, please! We would rather scan the tickets from your mobile phone than from paper. That saves another tree, which we need badly enough to feed the Brontosaurus.
Can I reach the Dinopark by public transport?
Yes, you can! From Gouda station take bus 190 in the direction of Rotterdam Alexander. Get off at the stop Julianasluis, this is a 7 minute bus ride. From there it is about a 6 minute walk (550 metres) to the Dino Experience Park.
For what ages is the Dino Experience Park suitable?
The Dino Experience Park is fun for all ages! Discovering the dinosaurs and their lifestyles is exciting and adventurous for everyone. For our smaller guests there are play areas and for the older children there is for example Jurassic Golf, where you can play miniature golf among the dinosaurs.
Are dogs allowed?
Dogs are only allowed on our terrace, in the park and at Jurassic Golf they are not allowed. In addition, they must remain on a leash and not bark at our Diplodocus. Despite his size he is a bit scared!
Will you experience it too?
These people managed to stay out of the hands of the T-Rex in the Dino Experience Park and tell about their experience here!
"The kids and I had a great time. Friendly staff and clear explanations. As far as the holes go, this is a very nicely set up miniature golf course. The dino's, the streams, the cave and the waterfalls are very nice. Next time we will come looking for gold!"
Paul Vos ★★★★☆
"Very nice job, staff is very sympathetic to the children. There even was a secret cave. We had a very enjoyable experience as grandparents with grandson."
Leen Schakelaar ★★★★☆
"Beautifully decorated course, with several holes and friendly staff."
Raymond ★★★★★
""Very nice variation on the regular miniature golf. A real adventure for the little ones. The courses are easy to do and also fun for adults to play. Good to combine with gold mining, although it doesn't amount to much. Good catering with a nice terrace. We will definitely be back. Very suitable for parties."
Edwin van Oostenrijk ★★★★★